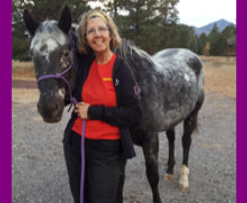 Equi-Health Instructor Training
Want to be a part of the fastest growing equine career in the US? Here's how! (and don't wait--fees are set to increase)
1. DECIDE - In which area do you want to work?
* Equine Health & Emergency First Aid (6 different training clinics to teach)
* Disaster Planning & Emergency Preparedness.
* Safe Trailering Practices
(or all 3)
2 APPLY - by clicking "Application" button.
3. Study for your pre-course exam (materials will be mailed to you)
All applicants must demonstrate the following:
All applicants must have the following before being considered by the Board of Advisors for the Equi-Health Canada/Equi-USA EFAI course
1. Must be over the age of 18 and a high school graduate or acceptable level of experience and education. Teens aged 14-17 may be considered however would carry the title of Junior Instructor and would be required to co-teach with a senior instructor until they are 18 years of age. This is partly for insurance reasons, but also to ensure the success of the young instructor.
2. Must have significant experience and comfort in handling and working with horses. This may be in a specific sport or discipline, breeding background, pleasure rider, groom, police work, or the like.
3. Must be able to participate in learning situations that require skills in observation, visual, auditory and tactile information gathering.
4. Must demonstrate the ability to safely perform hands on assessment/demonstration with a live horse, including feet and all parts of the body.
5. Must demonstrate the application of good judgement and prompt completion of all responsibilities attendant to the care and safety of both horse and human.
6. Must adhere to the EFAI Code of Ethics.
7. Must complete the application form in full and pay course fees prior to training date.
*Application does not guarantee acceptance. Refunds will not be issued to failed students.
Affiliate & Master Instructor, Teri Ann will travel anywhere and everywhere with 3-Paid Students
Training Dates & Locations
Equine Health & Emergency First Aid $ 2,999.00
May 14-16, 2021 - Laveen, AZ
July 16-18, 2021 - Location TBD
Sept 24-16, 2021: Laveen, AZ
****************
Disaster Planning & Emergency Preparedness $1,599.00:
April 23-24, 2021 - Laveen, AZ
Oct 9-10: Laveen, AZ
******************
Safe Trailering Practices $1,599.00:
TBD
Limit of Students: 5
Take 2 courses: $3,999.00
Take all 3 courses $4,499.00
$1,698.0 OFF
Don't see a date or location you can attend?
Call us to see about scheduling us to come to you at 602-579-1437
We offer this training throughout the week as well.

2021 Equi-Health Scholarships Opened
April 1, 2021 - May 10, 2021
Click on picture to go to website: